Ever wondered what a certified Japanese translation is, or how a translation is certified?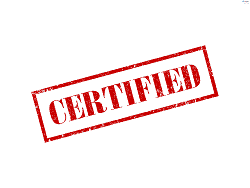 Professional Certified Translation -- Accurate. Certified. Accepted. Anywhere

It all boils down to what's known as the...Statement of Certification. (Also known as a Certificate of Accuracy)
This is essentially a document statement -no surprise there- issued by the translating company attesting to the accuracy of the translation. It goes without saying that a Statement of Certification by a professional Japanese translation company is desirable due to the trustworthiness afforded by a legitimate entity.

Helpful Tip
The translation company doesn't need the original documents to complete the translation (a clear scan, or even an image, will do just fine); however,
Translated documents must be submitted together with the Statement of Certification AND the original documents.
What personal legal documents translated Japanese-to-English need be certified with a Statement of Certification? If you are -or, if at some point, have been- a foreign resident in Japan, these are some of the documents that you'll need translated and certified:
(The most common Japanese document names have been placed next to the English documents for ease of reference for those of you just embarking on your Japanese language journey.)

The take away here is that you need to keep in mind that simply translating these documents does NOT certify them for legal purposes. Official organizations, such as immigration services, courts and banks etc., will NOT accept your documents without that all important Statement of Certification.

There you have it -- Keep these points in mind & you're well on your way to getting your documents

To be informed of the latest articles, subscribe: